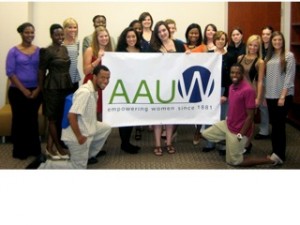 Members of the Louisiana SAC provide the state board with essential firsthand accounts of student needs and ideas, promote AAUW and its programs and serve as student leaders on their campus. They also plan the speakers / topics for their mini convention held during the Louisiana AAUW convention.
Serving on the Louisiana SAC is a wonderful opportunity for students to have their voices heard by a leading woman's organization and for them to gain valuable leadership and planning experience! They also meet and network with other students around the state.
The Louisiana SAC was started in 2007-2008. The concept was based on the AAUW-Alabama SAC which, in turn was based on the national SAC.
As representatives from their schools, LA SAC members can request special AAUW programs, workshops and presentations be held at their universities.
Meeting Recap 
An enthusiastic group of 21 students, representing seven colleges/universities from around the state, met with AAUW Louisiana at the new LSU Women's Center. The day started with lunch and getting acquainted. State President, Debbie Freda, and Past State President, Anne Taylor, presented "AAUW 101", so the students could get to know AAUW and all it has to offer. Next, they divided into small groups to discuss future initiatives, and then reported back to the main group. The topics discussed were:  A student workshop, student involvement at the State Convention, AAUW Student Organizations, and how social media can benefit their group.
AAUW-LA started the Student Advisory Council five years ago. Our SAC is modeled after a very successful SAC in Alabama. That one was modeled after the National SAC which helps to plan the National Conference for College Women Student Leaders.
AAUW National Student Advisory Council
National Student Advisory Council (SAC) – SAC student leaders give AAUW advice and implementation strategies on programming of interest for young women and girls, build relationships with local AAUW branches, lead campus events that promote women's equity, and help plan and implement NCCWSL activities.
Louisiana student leaders are urged to apply for a position on the AAUW National Student Advisory Council.