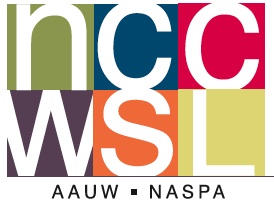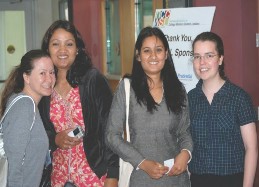 Each year AAUW co-sponsors the National Conference for College Women Student Leaders (NCCWSL) held in Washington, D. C., during the first week of June.
7 young women from Louisiana colleges attended. (Several received financial help from AAUW-LA.) There were 2 students from Loyola, 2 from Our Lady of the Lake (Baton Rouge), and 1 from LSU. The students attended programs on a variety of topics, such as money, business etiquette, leading collaboratively, and getting into graduate school. They also had lots of time for networking.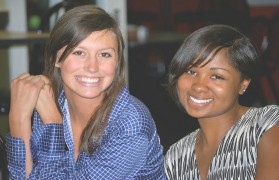 In addition, 2 Louisiana students were speakers and guests of AAUW: Sharbari Dey of LSU spoke about the Campus Action Project, sponsored by an AAUW grant and implemented by the LSU Women's Center. Mary Anne McDougall of UL Lafayette spoke about Campaign College, the AAUW program which teaches students to run for office on their campuses. (She learned about it at the previous NCCWSL).
Louisiana Student Comments:
Sharbari Dey of LSU comments on her NCCWSL experience…
The Opening Session — "Finding Your Voice" and "Sharing Your Voice" were especially appreciated as it gave an opportunity for presenters and attendees to meet and exchange information with each other. The diverse perspectives and stories that the women brought with them were deeply moving and motivating. The NCCWSL Women of Distinction Awards Ceremony was a unique opportunity provided to all the attendees and made them feel empowered as women. Hearing the award winners share their stories and later engage in one-on-one conversation with everyone was wonderful.
I presented in the Session I on Friday. The overall experience was very enriching. The session was well attended and the audience was very responsive. I felt that the 3 projects that were presented gave the audience a good variety of action projects that could work across college campuses. There was enthusiastic Q&A after the session.
Overall. I think the conference was a very enriching experience. The opportunity to meet and interact with so many inspirational women and peers made the conference a unique forum, and I really would like to thank AAUW Louisiana.
Note: Sharbari Dey's presentation detailed the Campus Action Project, sponsored by an AAUW grant and implemented by the LSU Women's Center
Kristin McLaren-Mickal of Tulane comments on her NCCWSL experience…
When I arrived, I was pleasantly surprised to see so many friendly faces welcoming me to NCCWSL. Initially, I worried that I might have been the only non-traditional student attending, but this was not the case. Although the majority of attendees were young women aspiring to be leaders within their community, there were a number of non-traditional students I made friends with that were also struggling to balance work, home and school. It was from this group of women that I learned my struggle is felt by many mothers who are seeking their education.
In the opening session, "Finding Your Voice", I was inspired by the words of wisdom that flowed freely throughout the room from both the keynote speaker as well as other attendees. One attendee in particular proudly proclaimed her certainty that the first female president is at the conference. Leaving the opening session, I felt empowered to speak and know that my voice would be heard. This conference is unlike any other I have attended. Each session, each workshop was based on interaction with the attendees. It truly felt as though we weren't just there to listen, but they were there to listen to us.
The Women of Distinction Awards was a very powerful experience. To hear from women around the globe that have overcome so much to bring change to a world that judges women by the households we cater to was incredibly uplifting. I attended four of the workshops: "Financial Literacy for Professional Women", "Increasing Women in Science, Technology, Engineering and Math", "The Power Game of Leadership", and "Leading from the Heart: Bringing Passion to Life". The collective experience of these workshops allowed me to return to Louisiana and re-focus my priorities!
Samira Jones of Loyola comments on her NCCWSL experience…
The diversity of attendees was something that one rarely sees at conferences, and I was pleased with the mix of undergraduate and graduate students. My favorite workshops were "Black Feminist Thought" and "Street Sexual Harassment". Upon returning from the conference, I ordered 6 books from the book lists that the presenters had recommended. These books have turned out to be some very enlightening and practical reading. I had a great time at NCCWSL, and I am so grateful for the opportunity to attend!
Jill Tatarski of Loyola University New Orleans comments on her NCCWSL experience…
 I embarked on a journey to the University of Maryland College Park at the beginning of June. I headed to NCCWSL, the National Conference for College Women Student Leaders. Women leaders from all around the United States and other countries were coming together to empower each other and gain inspiration from fellow peers. There were various lectures, events and workshops to attend and participate in as well as having the opportunity to explore the Washington D.C. area.
 A workshop that I enjoyed a great deal was delving into the "F" word…meaning feminism. People have a difficult time accepting this word, especially since there are stereotypes that surround it. In the workshop, everyone who attended proclaimed why they were a feminist and what it meant to them. I think it helped everyone in attendance realize that being a feminist is something that should be a natural part of everyone's life. Attending this workshop helped me embrace my own proclamation as a feminist even more.
A truly wonderful event was the Women of Distinction ceremony. Marsha Guenzler-Stevens, Connie Chung, Swanee Hunt, Lisa Jackson, and Natalie Randolph were the five prestigious women who received these awards in honor of their leadership roles. To see these women up on the stage gave me a personal aspiration to follow in their footsteps. As a woman in several student leadership positions, I highly recommend attending this conference in the future. It is a learning experience and a fantastic space to meet with other women who are just as passionate as you are about pursing future endeavors and establishing equality for both genders.