American Association of University Women (AAUW), founded in 1881, is the nation's leading organization that promotes equity for women and girls through advocacy, education, philanthropy and research. It has more than 170,000 members, 1,300 branches and 500 college and university institutional partners. People of every race, creed, age, sexual orientation, national origin, and level of physical ability are invited to join.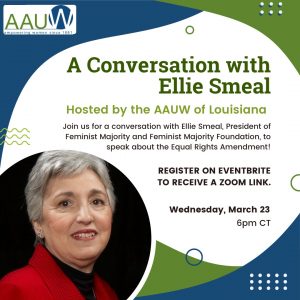 AAUW Louisiana is announcing "A Conversation with Ellie Smeal" who will discuss efforts to make the ERA a part of our Constitution. This event follows an event from the ERA Coalition from the night before. Ellie will sum up that event plus add the overall efforts over the past 50 years to make this happen. Register HERE in Eventbrite for your FREE ticket. You will receive the Zoom link the morning of the event (March 23) at the same email used to register.
What You Can Do –
VOTE
Kyle Ardoin, LA Secretary of State, announces new voter help system, GEAUXBOT.
To access it, go to the voter portal on the Sec of State website.
Select the blue chat icon at the bottom right of the screen. A disclaimer will appear, please read and indicate "I accept".
Voters will then be able to choose a topic (Voter Registration, Absentee Voting, Early Voting, Election Day Voting) or enter a specific question into the window.
GeauxBot will ask prompting questions related to the voter's question and provide relevant answers.
Should the voter have further questions, the Elections Division telephone hotline 800.883.2805 is available Monday through Friday from 8:00 a.m. to 4:30 p.m.
It worked well and provides the same information as finding your way through the website, and is much easier.
For full details, check the geauxvote website.
Why Should I Vote – my vote doesn't count much in the big scheme of things?
There is that, you are just one person. I am just one person. But when you plus me plus 25 others plus 159 others plus more all vote we become We The People. We are the We The People that are addressed as the first 3 words in the Constitution of this country. If we all vote our collective voices CAN be heard and we CAN affect change.
Here are more reasons to vote.
If you are an African-American, think of what your ancestors went through to vote. First they were slaves, then they were freed by the 13th Amendment in December 1865. Then they had to make it through Reconstruction and the subsequent loss of voting rights that were steadily removed. The Voting Rights Act of 1965 reversed these removals by prohibiting racial discrimination in voting. A Supreme Court ruling in 2013 weakened some of these rights.
After all your ancestors went through, how can you NOT vote?
If you are a woman, as we learned recently from our AAUW Louisiana event highlighting the 100-year anniversary of ratification of the 19th amendment, just how long (70+ years) and what difficulties (arrests, jail sentences, fines, forced feedings, marching and picketing) women endured in order to be granted the right to vote. Unfortunately, this did not truly cover the women of color; they had to wait for the Voting Rights Act of 1965.
After all our fore-mothers went through, how can you NOT vote?
Remember the Boston Tea Party? The Colonists revolted having to live under taxation without representation. The same thing occurs if you don't vote – you have NO say in how you are governed. Complaining doesn't work, voting does.
Individual votes count more especially in the smaller ballots like state or local offices. These positions affect your daily life even more than national offices.
Please exercise your right to vote, your duty to vote, and vote this year!
AAUW of Louisiana has 200 members in 5 branches, plus 170 National members.
AAUW of Louisiana actively supports efforts to ratify the Equal Rights Amendment (ERA) in Louisiana, and serves to support our Louisiana members and AAUW activities at Louisiana colleges and universities.
AAUW of Louisiana actively supports Pay Equity  and Pay Transparency for government and private company employees. See the  Louisiana Women's Policy and Research Commission – 2018 Annual Report.
AAUW Louisiana commemorated the ratification of the 19th Amendment allowing Women's Right to Vote. Click here to see details.

Science, Technology,
Engineering, Math
Additional Information from National Girls Collaborative Project
About AAUW
AAUW (also known as the American Association of University Women) advances equity for women and girls through advocacy, education, philanthropy and research.
Founded in 1881 by seventeen alumnae of eight colleges, AAUW is the largest, oldest national organization dedicated to the advancement of women and education.
For more than 128 years, AAUW members have examined and taken positions on the fundamental issues of the day — educational, social, economic and political. Our commitment to our mission is reflected in all aspects of our work.
The Value of Belonging to AAUW
As an AAUW member, you'll be proud to belong to this nationwide group of people who value education and equal rights, who are contributing to a more promising future for all women and girls, and who together provide a powerful voice for women and girls. This is a voice that cannot and will not be ignored.
Diversity
In principle and in practice, AAUW values and seeks a diverse membership. There shall be no barriers to full participation in this organization on the basis of gender, race, creed, age, sexual orientation, national origin, disability, or class.