Who can become a member?
Nationally, membership is open to anyone who has earned an associate, baccalaureate or higher degree from an accredited college or university; or anyone working toward their first baccalaureate degree may join as a student affiliate.
How do I apply for membership?
Contact aauwlouisiana@gmail.com for information. Or go to AAUW.org to find a branch near you.
Any Discounts or Special Offers?
AAUW offers a Shape The Future (STF) discount for New Membership. People who join an AAUW branch at a "public event / program", sign our guest book, and pay on that day are eligible for a discount of ONE HALF OFF the national dues. AAUW members who have lapsed for more than 2 years are also eligible for a STF discount when re-joining at a public event.
Membership dues are also cut in half after the half year mark (mid March).
Why should you join AAUW?
Fellowship with intelligent, educated women who have a variety of activities and interests.
Opportunity for contacts with community leaders.
Builds self-esteem and gives a greater vision of what one can accomplish and become.
Community involvement.
Who might want to join AAUW?
Anyone (men and women) interested in equity issues related to women and girls.
Those who agree with AAUW's Public Policy Priorities and want to receive timely notification of important woman's issues.
Women who have just moved into the region wanting to meet people.
Women wanting to expand their social circle.
New graduates who might want direction and mentoring in their careers.
Working women who want to network.
Young mothers tired of baby talk who want to have some intelligent conversation for a change.
Mothers of older children or "empty nesters" finally having time to "rediscover themselves".
Retired women eager to meet other intelligent and active retirees.
How can I get my monies worth from my AAUW dues?
Stay active in your AAUW branch: come to events, book clubs and GET INVOLVED! Just ask any board member, "how can I help?"

AAUW Louisiana Branches
Branch Locations: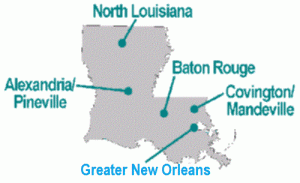 AAUW Louisiana has several active branches throughout the state. Most branches have events open to the public, plus members-only special interest groups such as: book study groups, dining groups, movie/entertainment groups. If there is no branch in your region, you may join as a "National Member" or please consider creating a new branch.
To reach any of the AAUW Louisiana Branches email:
aauwgno@gmail.com for the Greater New Orleans branch
AAUW Louisiana On Campus
Louisiana has set up several Facebook groups for our Louisiana colleges in hopes that enough local AAUW interest can be generated that eventually an active campus affiliate group might be formed.
If your college is one of the AAUW university partners, then students may join AAUW as a student affiliate for FREE! Check to see if your school is an AAUW College / University Partner; or join as a student affiliate.

AAUW Louisiana On Facebook
Louisiana Colleges and Universities on Facebook: